Feb 4, 2016 04:32
To add a line break to your HTML, you can use the following tag:
<br>

<!DOCTYPE html>
<html lang="en">
<head>
  <meta charset="UTF-8">
  <title>My Page</title>
</head>
<body>
  Hi.<br>
  My name is:<br><br>
  Tom Jones.
</body>
</html>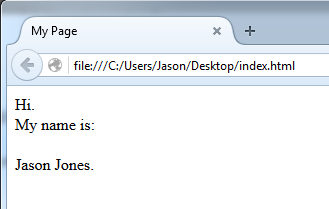 Yes. Block elements (we'll get to this soon) such as the <div> element can achieve a similar visual effect.